Fiberglass Screen is made of fiberglass under the process of plastic-coating, plain weaving and high temperature-fixing.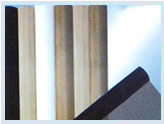 Fiberglass screen is well ventilate, well transparent, easy washing, anticorrosive, resistance to burn, strong tensile force, keeping shape, long service life and feels straight. The popular carbon makes vision more comfort and natural. Vinyl coated fiberglass insect screen has graceful and generous appearance, suitable for uses in ventilation and insect proof in construction, orchard, ranch, etc.
1, Standard mesh/inch: 20x20, 18x18, 16x16, 18x16, 18x14
2, Standard color: White, black, grey, other colors at request.
3, Standard width: 24", 30", 34", 36", 42", 48", 60", 72", 84", 96", 108".
4, Custom orders with different width, colors or length available to meet customers specific requirements.